The best cars to get tails wagging!

What to look for?
When it comes to choosing your next car, there are lots of things to consider, but if you're a dog owner your list of priorities might look a little different. From short hops to the shops (that are open!) through to wet and muddy walks in the countryside, you'll need a car that can meet every challenge. So if you've got a pet pooch that likes to travel in style, we've taken a look at the things to consider when making your choice, and we've got a list of the top five dog-friendly cars around.
Size
Just like their humans, dogs come in all shapes and sizes so picking a car that's the right size is your first consideration. Will your cuddly Cockapoo fit in your Corsa, is a Land Rover the right ride for your Labrador Retriever?
It's important that your dog can sit and lie down, stand up and turn, so looking at things like boot space and roof height should be at the top of your list, especially if your dog is a larger breed.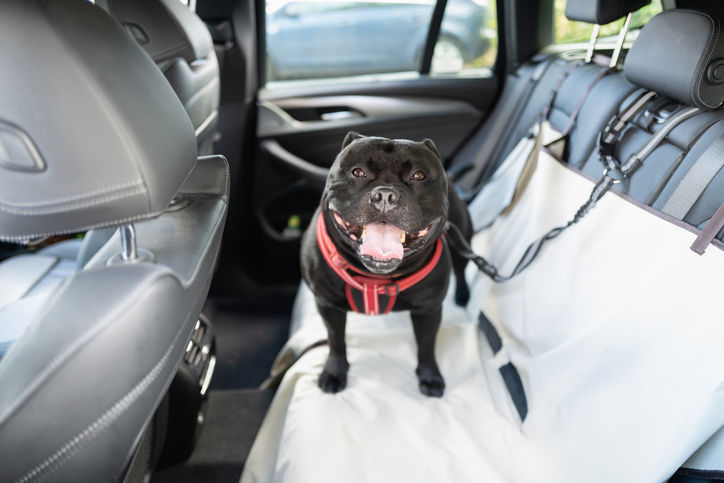 Safety
When you're looking at size and space, think about where your furry friend will travel - in the boot or on the back seats. The Highway Code sets out that it's a legal requirement that your dog is suitably restrained so that they aren't a distraction.
If your dog travels in the back seats, you'll need a suitable dog harness. If it's the boot, you'll obviously need to avoid a saloon car, and you'll need a dog guard or pet carrier.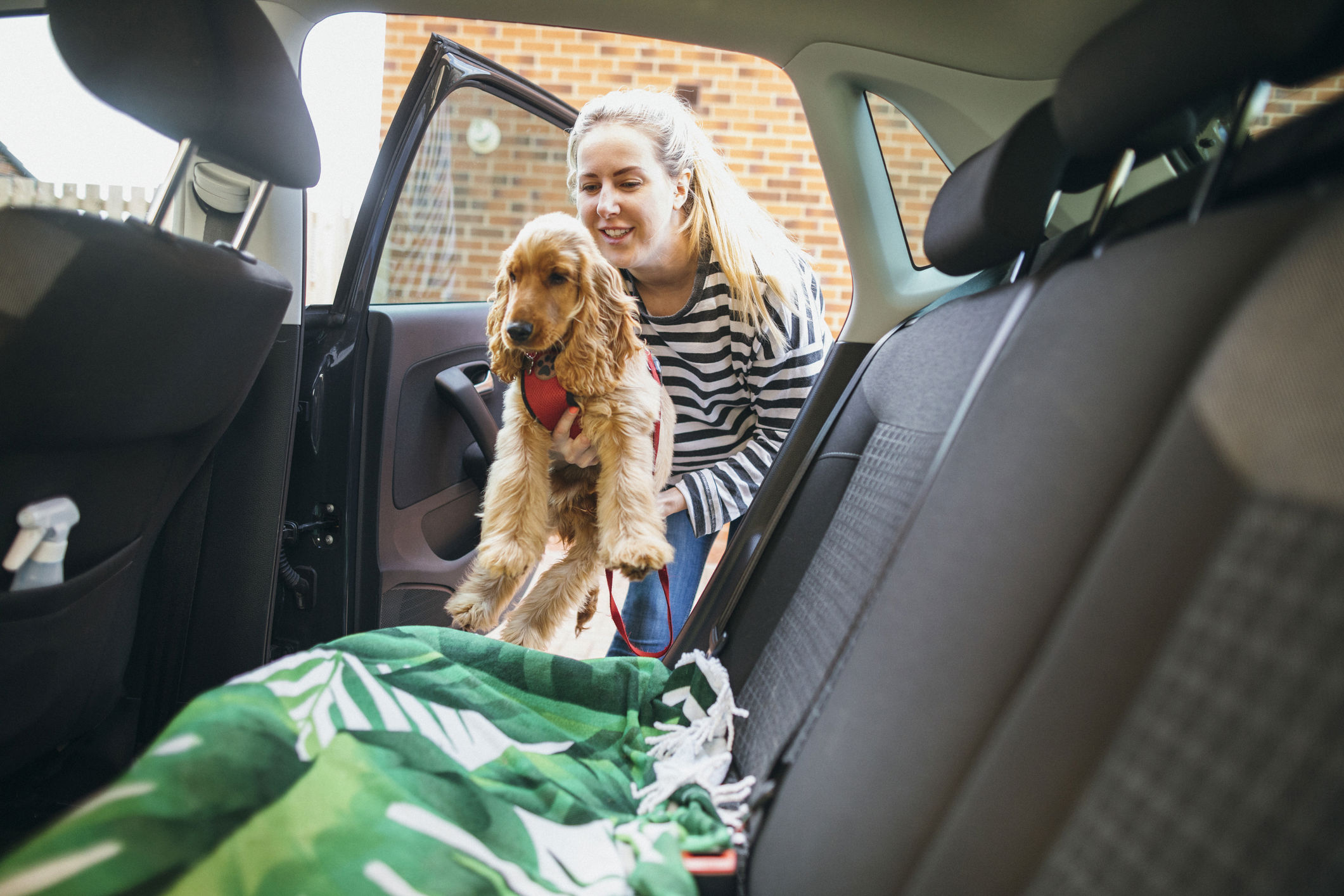 Accessibility
Getting the dog in and out of the car easily and safely is another consideration. If they're going to travel in the boot look for one that's low so they don't damage their legs jumping out.
Whilst a Golden Retriever or Springer Spaniel will jump in and out of most cars with ease, smaller breeds like Pugs and Dachshunds will need some help so make sure you can easily lift them in.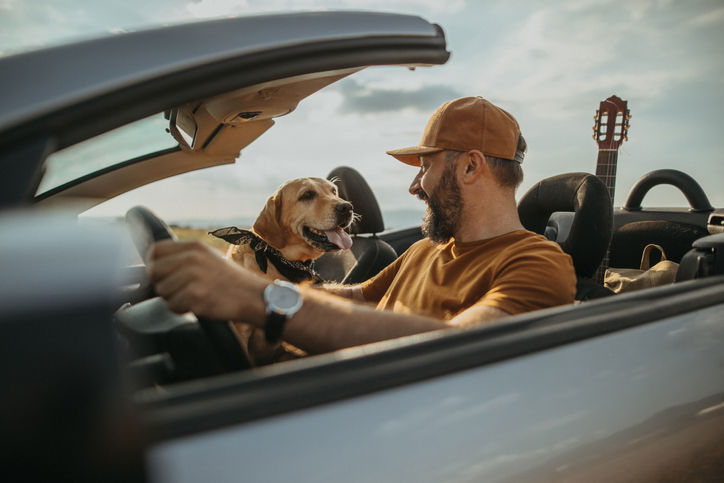 Ride
Choosing a car that has low cabin noise and a ride that isn't too hard or too soft is not just good for your pet, but you and your human passengers too.
Sports and performance models tend to have a harder ride in the rear, but if the ride is too soft, it's possible for your pet to get travel sick.
Finish
Think about the choice of interior. Sharp claws can easily damage soft seating and scratch hard plastics.
Dog hair and mud can stick so you'll probably want something that's easy to clean and can be vacuumed. Lots of dog owners like leather for its ease of cleaning, but you could consider seat covers as another option.
Extras
While not essential, most vehicles come with a list of optional extras that can be useful for dog owners. From portable showers to boot lip mats and removable boot trays that hose down, there's lots of choice.
Rear electric windows that can be operated by the driver and rear cabin climate control are also useful for keeping your pet pooch cool.
Which car should I go for?

 
If you're still not sure where to start, we've taken a look at the top five dog-friendly options for every size and budget.
If you're looking for an economical, dog friendly hatchback, the Volkswagen e-Golf or Golf could be the right choice. Whilst its 380 litre boot space is smaller than some of the other choices in our list there's still plenty of room for smaller or mid sized breeds. Plus, if you do need more boot space, the rear seats split 60/40 and fold almost flat creating around 1,270-litres. Add to that the  wide boot opening, low load lip and dog friendly accessories and this could be a perfect choice to carry your Cavapoo in comfort.
When it comes to space, the Skoda Superb Estate takes some beating. With a huge 660 litre boot, it's big enough to fit even the biggest of breeds. Plus the boot opening is nice and wide and quite low so jumping in and out should be a breeze.
The Mercedes E Class Estate provides luxury for you and your canine companions. Its large 640-litre boot comes with a flat load bay so it's easy to get your dogs in and out. Mercedes also offer a range of optional extras; the boot lip protector is great to stop scratches from the excited scrambles in and out.
If you're looking for lots of space, the Land Rover Discovery Sport is a good choice, offering a whopping 754 litres of boot space when the two back seats are folded down. Plus with a range of luxury extras available including quilted floor liners and access ramps your canine companion can travel in style.
For dog owners looking for something electric, the Tesla Model 3 is one of the most popular, and best reviewed options on the market. It's worth keeping in mind that it's a saloon so your dog will need to travel in the back seats, or in a small crate if the seats are folded down. However, it does offer some great tech including Dog Mode.
Obviously, it's advised that you don't leave your pet unattended, but if it's unavoidable, Dog Mode lets you set the climate control system to maintain a cool, safe temperature and has a sign on the large touch screen that reads "My owner will be back soon" and provides the interior temperature of the car.
Choose the right car for you
Choosing a car is a big decision, and whilst your dog deserves the best, it's also important to pick a car that you like and that meets your other needs.